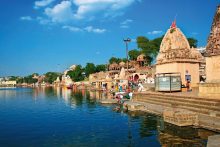 Ujjain, the temple city, has been witnessing a massive influx of tourists since the opening of Mahakal Lok in November 2022. The Shree Mahakaleshwar Temple Management Committee has reported a threefold increase in daily footfall, with over one lakh devotees visiting the temple on an ordinary day, and more than 1.5-2 lakh on weekends and holidays.
Ujjain is also home to several historic monuments, including the Ujjain Fort, the Kaliadeh Palace, and the Ved Shala Observatory, which was one of the oldest observatories in India. The city is also known for its vibrant street markets, where visitors can shop for local handicrafts, textiles, and other souvenirs.
This surge in tourists has prompted locals to convert their houses into homestay facilities to accommodate the influx of visitors. According to officials, the number of homestays in Ujjain is estimated to be more than 100, with more homeowners registering with the tourism department to offer homestay services.
Madhya Pradesh Tourism Corporation officials said, "Occupancy of our hotels has gone up to over 95 percent on most days of the month in Ujjain at all three properties due to the high rush of tourists. We expect a sharp jump in revenues in Ujjain due to high occupancy of tourists."
Manoj Singh, Director of Rural Tourism at Madhya Pradesh Tourism Board, said, "Homestays have become a common choice of travelers, and seeing the opportunity, locals are opting for this business. We are pleased to see the rise in homestay facilities in Ujjain due to the sudden spike in tourist arrivals from across the country."
The surge in tourists and the rise in homestay facilities present an excellent opportunity for media coverage to highlight the cultural richness and economic potential of Ujjain.