Experience Palate Fest's Culinary Amalgamation with IHCL's Soulinaire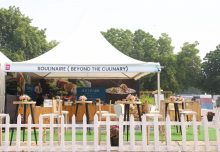 Soulinaire, the luxury food and beverage concept by the Indian Hotels Company (IHCL), has participated in  this year's highly anticipated Palate Fest, India's premier culinary extravaganza. This culinary celebration took place at the Major Dhyan Chand National Stadium in Central Delhi on November 18th and 19th, 2023.
The culinary maestros at Soulinaire had meticulously crafted a menu that promises a delightful journey through diverse cuisines. The thoughtfully curated offerings include tantalizing appetizers such as Sour Cherry Dahi Bhalla, Burrata Salad and Classic Hummus with Pita. Guests could  savor fusion signatures like Vada Pao, and American Corn Dogs, as well as indulge in Italian specials such as Mushroom and Truffle Ravioli. An iconic dessert, the Bull's Eye from Taj Mahal, New Delhi, added a sweet note to the experience. The menu was complemented by a selection of gourmet teas and coffees, ensuring a symphony of tastes that harmoniously blend with the vibrant atmosphere of Palate Fest.
Embracing Palate Fest's commitment to regional and local culinary excellence, Soulinaire is dedicated to spotlighting the rich tapestry of South Asian flavours and delivering an experience that can be cherished by the whole family. Furthermore, to align with environmental consciousness, all food will be presented in specially designed sustainable serveware, emphasizing Soulinaire's commitment to eco-friendly practices and contributing to the festival's dedication to sustainability.
Mr. Sudhir Barabari, General Manager at Soulinaire expresses, "Palate Fest is a celebration of culinary diversity, and we're thrilled to be part of this vibrant event once again after the previous edition in February 2023. We're committed to bringing a world of exquisite flavours to the table, and look forward to our showcase our culinary excellence at the much awaited event."
Palate Fest, acclaimed as the best in South Asia, is known for its emphasis on regional and local brands. The festival's diverse line-up includes well-established and emerging culinary brands, live music performances, chef-led masterclasses, celebrity appearances, and a range of entertainment activities suitable for all age groups. An amazing experience is promised at Major Dhyan Chand National Stadium by this convergence, where flavours and traditions meld into a harmonious celebration, creating an event signature to the unique charm of Soulinaire and the Taj Mahal Hotel, New Delhi.
For additional information, please call Surabhi Vaish at +91 9717456784, surabhi.vaish@soulinaire.com