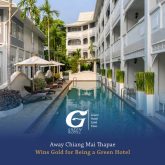 Away Chiang Mai Thapae has been honored with a Gold medal by Green Hotel as part of their distinguished Green Hotel Initiative. This accolade serves as a powerful affirmation of our steadfast commitment to Eco Friendly practices. It's worth mentioning that we stand among an exclusive group of just 24 hotels in Thailand to earn this recognition.
Our resort has set a new standard in Sustainable Hospitality, thanks in large part to our comprehensive waste management system that prioritizes recycling and reusing materials. A heartfelt thank-you goes out to our incredible team, led by Katerawee Thepprachum, whose relentless focus on quality and sustainability has been key to achieving this milestone.
We are also excited to spotlight our Moreganic Restaurant, a haven for vegan cuisine that aligns perfectly with our sustainability ethos. In addition, our detox bar features a handpicked selection of healthful beverages, crafted with both flavor and environmental responsibility in mind. These offerings enable our guests to indulge in luxury while also playing an active role in our Green initiatives.
This award is part of the 'Environmentally Friendly Hotel (Green Hotel)' project, initiated by the Department of Environmental Quality Promotion.