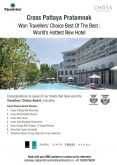 Cross Pattaya Pratamnak under the umbrella of Cross Hotel & Resorts, have won the Travelers' Choice Award Best of the Best: World's Hottest New Hotel. From leisure & luxury to sunsets and seascapes. From its majestic location overlooking the beach, Cross Pattaya Pratamnak offers comfort for those seeking leisure and relaxation with activities both in and around the hotel. The hotel's exquisite design takes inspiration from colonial-style architecture. Situated on Pratamnak Hill, the property features delightful interiors and fully modern facilities.
Seven Hotels under Cross resorts have won Travelers' Choice Award are
1. Cross Chiang Mai Riverside
2. Cross Bali Breakers Resort
3. Cross River Kwai
4. Cross Vibe Bangkok Sukhuvmit
5. Away Chiang Mai Thapae – A vegan Retreat
6. Away Bali Legian Camakila
7. Tanadewa Resort & Spa Ubud by Cross Collection
What is Travelers' Choice Award – Every year, it is awarded to travelers' favorite destinations, hotels, restaurants, and things to do around the world, based on reviews and ratings collected over the past 12 months. So our Travelers' Choice Best of the Best winners are decided by you: real travelers from all over, sharing real opinions and stories.