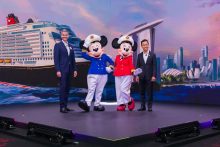 Disney Cruise Line and Singapore Tourism Board today announced magical cruise vacations to Southeast Asia for the first time, revealed by Disney Parks, Experiences and Products Chairman Josh D'Amaro and Singapore's Minister for Transport and Minister-in-charge of Trade Relations, S. Iswaran.
Under a recently signed Memorandum of Understanding, Disney Cruise Line and Singapore Tourism Board agreed to collaborate to homeport a brand-new Disney cruise ship exclusively in Singapore for at least five years beginning in 2025. More details about the maiden voyage, itineraries and onboard experiences will be announced later.
"This is a very exciting year for The Walt Disney Company — 2023 marks our 100th anniversary," D'Amaro said. "As part of this, Disney Cruise Line is currently undergoing an ambitious expansion with new ships and new destinations around the world. We are incredibly excited to make Singapore the home port to our seventh-launched ship, which will sail from here year-round starting in 2025."
"We look forward to welcoming the magic of Disney Cruise Line to Singapore in 2025," said Keith Tan, Chief Executive, Singapore Tourism Board (STB). "This is an important milestone for STB and reflects Disney Cruise Line's strong confidence in Singapore and Southeast Asia. The new Disney cruise ship will be an attraction itself and is expected to boost the tourism sector in Singapore for many years to come."
Singapore's strategic location, world-class air connectivity and port infrastructure make it a thriving cruise hub in Southeast Asia, a diverse region that is home to over 40 UNESCO World Heritage Sites.
The addition of a Disney Cruise Line ship in Singapore has the potential to add millions of local and foreign cruise passengers across the five-year period, including fly-cruise passengers who arrive in Singapore by air. It is also expected to bring about significant spillover benefits for the wider economy. These include greater demand for port and ship-related services, as well as on-ground spending in Singapore for the lifestyle and hospitality sectors.