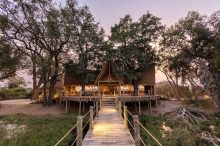 Great Plains, the iconic eco-tourism company, has opened Sitatunga Private Island, a water-based Réserve-Collection Safari Camp in the upper reaches of Botswana's Okavango Delta. Built on a raised, wrap-around railway sleeper private deck, Sitatunga Private Island can accommodate a maximum of four adults in two separate and stunning private suites.
The spacious double-bedroom Sitatunga Private Island Suite hosts four adults or a family of two adults and up to three children, offering a total footprint of approximately 607m2. Sitatunga Private Island can host up to eight guests in total sharing the two suites and the two-bedroom Sitatunga Private Island Suite.
Constructed almost entirely of recycled materials, breathing new life into old treasures, the new camp offers discerning explorers a 'slow safari' experience that is as sustainable as it is luxurious. Each of the two guest suites, as well as the 2-bedroomed Sitatunga Private Island Suite comes complete with an indoor lounge, gorgeously appointed bathrooms with baths and separate showers, a private deck with outdoor lounging and seating areas as well as a private pool with expansive views over the lagoon that stretches in front of the camp itself.
Sitatunga Private Island will provide guests with the most authentic 'Robinson Crusoe'-inspired experience and a refuge for the soul in the Okavango Delta. Dereck Joubert, CEO of Great Plains, says, "Sitatunga Private Island is unlike any other Great Plains property, pushing the eco-design boundary in a remote region in Botswana whilst also offering the highest level of hospitality and accommodation. It is also one of the few locations in the world where one can still see sitatunga, the rare aquatic antelope, from camp and by boat, which is the main activity here in
addition to walking. It is deep Okavango Delta and, as such, is rich in birding. Head out on a boat to view elephants, crocodiles, and hippos all day, every day. I know our guests will enjoy every moment of it, as I do."