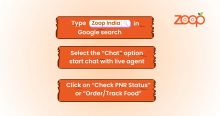 IRCTC announced the launch of Zoop, a Google Chatbot for food delivery on trains. Railway passengers can simply google "Zoop India" and click on the "Chat" option for ordering food on train, track their PNR status, and orders within the chat itself.
From checking the PNR Status on Google Chats to selecting their desired items to track their orders, users can carry out the entire process without the app or website can be done with AI assistance.
The entire food ordering process is very smooth and user-friendly. Here's how to use the Zoop Google Chat for Indian Railways:
1. Type "Zoop India" on the Google search bar
2. Select the "Chat" option – this will open a pop-up for chat with a live agent
3. Select "Check PNR Status" or "Order Food" as per your needs.
Puneet Sharma, Founder, Zoop, comments "Our goal is to provide our customers with quality meals from a wide variety of options, including full-course meals, snacks, and drinks. Upon ordering, passengers can track the progress of their orders in real-time".
He commented that Zoop not only offers convenience but also flexibility, as travelers can choose to order anything from a light snack to a full meal. With the introduction of Google chatbot, passengers don't have to choose between pantry car snacks or waiting until getting off the train to get a good meal.