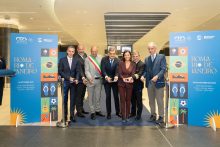 Rio de Janeiro/Rome, October 30th, 2023 – Today ITA Airways launched its nonstop service between Rio de Janeiro and Rome. The inaugural flight, AZ 673, connecting the two cities departed at 3.45 p.m. from Rio de Janeiro-Galeão airport and was operated with the Company's Airbus A330neo, a benchmark in terms of technology, digitization, innovation, efficiency, design, and ultimate expression of Made in Italy.
To celebrate the launch of the new intercontinental route connecting Brazil and Italy, a ribbon-cutting ceremony was held at the departure gate in Rio de Janeiro, in the presence of Emiliana Limosani, Chief Commercial Officer ITA Airways and CEO Volare, Pierfrancesco Carino, Vice President International Sales ITA Airways, Massimo Allegri, Regional Manager Americas ITA Airways, Andrea Taddei, Country Manager Brazil ITA Airways, Alexandre Monteiro, Chief Executive Officer Rio de Janeiro-Galeão Airport, Alessandro Cortese, Ambassador of Italy to Brazil, and Massimiliano Iacchini, Consul General of Italy in Rio de Janeiro.
ITA Airways' expansion on long-haul is one of the main pillars of the Company's strategy, as it not only generates profitability but also increases short haul connections, helping to expand the capacity of the intercontinental network.
"I am very happy to be here today to inaugurate our new nonstop flight from Rio De Janeiro to Rome. This is the third long haul destination we are opening in 2023, a year that marks ITA Airways' greatest growth in the intercontinental market after the opening of Washington and San Francisco in the summer season. – said Emiliana Limosani Chief Commercial Officer of ITA Airways and CEO Volare – Our goal is to become the carrier of reference for the mobility of Italians. Our network's development has a strong focus on those markets where the customers' demand is higher and where there is a strong presence of the Italian community. Today with the launch of the Rio De Janeiro – Rome route we have taken a step forward towards this goal." added the CCO. "The Rio de Janeiro destination is not only playing a strategic role for business and cargo traffic but is also further strengthening our expansion in South America, a favorite holiday destination for Italians and home to millions of people of Italian origin. With an average of 21 weekly roundtrip flights between Brazil and Italy, connections are guaranteed for all those wishing to travel between the two Countries".
With the launch of the new nonstop flight, ITA Airways will operate 14 weekly flights between Rio de Janeiro and Rome, which will add to the 28 weekly flights already connecting São Paulo, Brazil's most populous city, to the Italian capital. This will bring the total number of weekly flights between Brazil and Italy to 42 while ITA Airways connections between South America and Italy rise to 56 weekly flights including the 14 weekly flights from Buenos Aires.