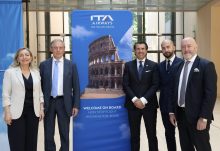 Today, the Italian National Day, marks the launch of the new ITA Airways Washington Dulles – Rome Fiumicino direct flight. The inaugural flight, which departed today at 4:20 p.m. from Dulles International airport, was operated with the new Airbus A330neo, the first aircraft completely built according to ITA Airways' new cabin design.

To celebrate the launch of the new intercontinental route and the entry into service of the new aircraft, a ribbon-cutting ceremony was held at the departure gate in the presence of Pierfrancesco Carino, Vice President International Sales ITA Airways, Chryssa Westerlund, Executive Vice President and Chief Revenue Officer, Washington Metropolitan Airports Authority, and Min. Plen. Alessandro Gonzales, Deputy Chief of Mission of the Embassy of Italy in Washington.

To further underline the importance of the new connection between North America and Italy, ITA Airways was partner of the Italian National Day celebrations held yesterday at the Italian Embassy in Washington. On the occasion, the Ambassador of Italy in Washington, Mariangela Zappia, said: "ITA Airways' new connection and plans to expand its network in the United States are important, long-awaited steps that bring America even closer to Italy and allow us to strengthen not only tourist flows but also the political, economic and cultural relations between our two countries".

The Washington destination inaugurates the expansion of ITA Airways' intercontinental network for the 2023 summer season and is enhanced by the introduction of the new Airbus A330neo, which made its first commercial flight today.

The Airbus A330neo is the benchmark in terms of technology, digitization, innovation, efficiency, design, and ultimate expression of Made in Italy, reflecting the fundamental pillars of ITA Airways.

The new Airbus, A330neo dedicated to the marathon champion Gelindo Bordin, has been entirely configured for the Italian airline, and features the award-winning Airspace cabin, new interiors designed by the genius of Walter De Silva, a new lighting system, sophisticated in-flight entertainment systems and full WiFi connectivity throughout the cabin.

Further enhancing the Italian experience on board are the menus signed by the starred chef Gian Piero Vivalda and the crew's uniforms, created with the stylistic advice of Brunello Cucinelli.

ITA Airways' new direct Washington-Rome route is now operating with five roundtrip flights a week and will offer daily roundtrip flights in the peak of the summer season, from 1 August to 28 October 2023.

ITA Airways, aims to become the number one option for both the Italian Community in Washington and the local and international business community working in the U.S. capital, by offering a direct access to Italy, Europe, and the entire Mediterranean region, through its hub at Rome Fiumicino Airport.