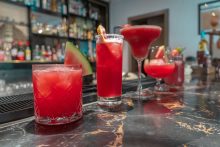 Karma Lakelands is organizing the Watermelon Fest at its property to welcome the summer. The relishing concoctions of the watermelon drinks are ready to quench the thirst.  They are providing a wide assortment of frosty and frothy cocktails, mocktails, and slurpees that are curated with an innovative blend by in-house mixologists.
The property is located miles away from the hustle and bustle of the city and is lavishly spread across 235 acres.  It is pristine, pretty, picturesque, and a perfect weekend getaway for Delhi NCR locals. Karma Lakelands is an eco-sustainable resort where environmental sustainability and luxury are a single value proposition. It is a zero-waste resort and follows several practices to bring an ecological balance. As a resort, they strive to minimize their carbon footprint and execute initiatives and actions to reduce the use of energy and water while avoiding the use of plastic. Single-use products & not just plastics are ruthlessly minimized.
Their restaurant Lake360 is the only restaurant in NCR that has a lakeside dining offering. Currently, the fest is hosted in other restaurants located within the property like: On Kourse, Pizza Bay, and AK's Cocktail Bar. In order to beat the summer heat they are organizing "Watermelon Fest" on the property. In the fest, one can get to experience different mocktails and cocktails, with watermelon used as a base.
"We like to curate freshest experiences for our guests. Our mixologists planned different concocts with this cool summer fruit. From slurpees to sorbets, mocktails to cocktails, there is something for every heart," said, Aryadev Khurana, Director, Karma Lakelands.
The cocktails like Murricane come with a mixture of Bourbon whiskey, watermelon juice and fresh herbs with a dash of lime juice is a must-have drink for this scorching weather. Another interesting drink is the Jalapeno Watermelon Margarita which is a frozen blend of Tequila, watermelon pulp, and orange liqueur.
The Watermelon Fizzito and Watermelon Blueberry Mojito mocktails are fused with watermelon cubes, fruit syrups, and soda. For all the teetotalers they can choose from the Indian style mocktails, such as Watermelon Shikanji and Watermelon Kombucha Cooler are to be counted upon.