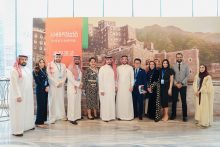 Saudi Tourism Authority (STA) has successfully concluded its first roadshow in Beijing with 13 partners including DMCs, hoteliers and airline partners in attendance. The roadshow celebrated key milestones for Saudi's tourism growth story and showcased the country's rich cultural and heritage offerings and, why Saudi is the perfect travel destination for Chinese travelers. A series of events, meetings, round table discussions and networking events were hosted, culminating in over twenty strategic partnership announcements.
During the highly anticipated roadshow, Saudi Tourism Authority held meetings with over 100 trade partners and travel buyers in China to promote Saudi as a leisure destination, sharing insights into the emerging trends in MICE tourism. Facilitating seamless group travel is Saudi's inclusion in the 'Approved Destination Scheme' alongside China's participation in Saudi's e-visa program along with 48 other nationalities and inclusion in the brand new 96-hour Stopover Visa – where guests flying onwards on SAUDIA can avail a complimentary one-night hotel stay in Saudi.
Saudi's presence in China is an indication of how important the tourism industry is for the Kingdom and the incredible growth the country has witnessed since opening to tourism in 2019. Saudi's post-pandemic tourism recovery has outpaced G20 countries. Last year, Saudi Arabia welcomed 93.5 million visits and saw total tourism spend amount to SAR185 billion – an increase of 93% compared to 2021.
China is a key source market for Saudi. As part of Saudi's ambition to achieve 100 million visits annually by 2030, China represents immense potential as it is expected to be Saudi's 3rd top source market by then.
Alhasan Aldabbagh, President-APAC, Saudi Tourism Authority, said, "We are delighted to showcase the beauty of Saudi and its diverse tourism offerings across China. We have received an overwhelmingly positive response from our partners here and Saudi Tourism Authority is committed to ensuring our product offerings are attractive to the Chinese market. These engagements are important in helping us achieve ambitious goals and drive visitation numbers from China to Saudi."
Chinese travelers can look forward to a diverse range of experiences from adventure, culture, heritage, and nature. Saudi has curated packages specifically for the Chinese travelers based on their interests and insights. The packages highlight some of the latest developments and most attractive destinations in Saudi, including:
Culture and Heritage: Saudi has rich cultural and historical sites. It is home to 6 UNESCO world heritage sites and more than 10,000 archaeological sites that are unexplored and that we are waiting to be discovered. This includes historical places like Al Balad in Jeddah and Turaif in Diriyah – the birthplace of Saudi.
Preserving its heritage and history, a $50.6 billion masterplan will transform Diriyah, a 300-year-old city, into one of the world's most exciting cultural sites.
AlUla, a living museum of preserved tombs, sandstone outcrops, and historic dwellings that hold 200,000 years of ancient history, will also open Wadi ALFann, Valley of the Arts in 2024.
Nature: Saudi boasts some of the world's most vibrant, untouched coral reefs in the Red Sea. Holidaymakers can charter a boat for some deep-sea fishing, relax aboard a cruise or scuba dive and snorkel year-round off the coast off Jeddah while enjoying pristine beaches offering every water sport imaginable.
Entertainment: Saudi is emerging as a major entertainment hub in the region, having hosted large sporting events and world-class festivals such as Diriyah E-Prix and Formula 1 in Jeddah; MDLBeast, the world's largest music festival and Riyadh Seasons – a mega festival which attracted more than one million visitors in its first week.