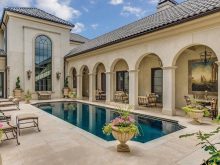 Spree Hospitality brings its first resort to Sariska, Rajasthan. Vice President of Spree Hospitality, Sagar Khurana said "Spree Hospitality is proud to announce its presence in Sariska. We remain committed to offering quality stay to our guest. This is our third property in Rajasthan. We are encouraged to sign the resort in Sariska since it is known as an important tourist destination."
Set in the mountain, Spree Resort Sariska comes complete with 46 luxurious rooms designed with the concept of villas and cottages will deliver guests a warm and heartfelt hospitality experience. In addition, the resort also has swimming pool complimenting the panoramic views of the hill, a spa, a gym, a kids' play area, a restaurant, lounge, and banquet facilities. Guests will be able to enjoy the facilities of resort starting in May 2023.
Part of EaseMyTrip, Spree Hospitality is known for offering unsurpassed service, comfort and style while creating meaningful and memorable experiences. Spree Hospitality currently operates 30 plus properties across India in the hotel, club and guesthouse industry with more than 7 hotels under construction.