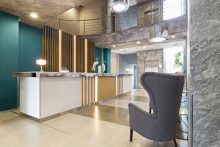 Spree Hospitality is thrilled to announce the signing of a new boutique hotel, Zip by Spree Hotels Morjim. Set to open its door on 1st June 2023, this new addition to the Spree Hospitality family promises to offer an unforgettable hospitality experience in the stunning coastal town of Morjim, Goa.
As part of EaseMyTrip's leading travel company, Spree Hospitality offers unbeatable service, comfort, and style. Currently, Spree Hospitality operates more than 30 hotels, clubs, and guesthouses across India. The launch of more than 7 hotels is planned for this quarter.
Sagar Khurana, Vice President of Spree Hospitality
"We are delighted to announce the addition of Zip by Spree Hotels Morjim to our portfolioand are confident that it will become a sought-after destination for travelers seeking a luxurious and comfortable stay" said Mr. Sagar Khurana, Vice President of Spree Hospitality. "With its prime location, stunning view, comfort rooms and top-class facilities, we are confident that the hotel will exceed our guest's expectations."
The hotel is located in the heart of Morjim and is in close proximity to some of the town's popular attractions. Guests can enjoy a stroll along the beautiful Morjim beach, take part in water sports, or explore the local markets and cafes.
Zip by Spree Hotels Morjim boasts a range of top-class facilities that are sure to make guest's stay comfortable and memorable. The hotel features spacious rooms with balconies, some of which offer stunning views of Morjim beach. Guest can enjoy the fresh sea breeze and soak up the sunshine from the comfort of their own private balconies.
To further enhance the guest experience, the hotel also boasts an in-built restaurant and swimming pool. The restaurant will offer a range of delicious dishes inspired by local and international cuisines, while the swimming pool provides a refreshing escape from the sun-drenched beaches. The restro bar is the perfect place to grab a drink and socialize with friends and family.
Zip by Spree Hotels Morjim is a testament to Spree Hospitality's commitment to providing top-class hospitality experiences to travelers. Whether guests are seeking a romantic getaway, a family vacation or a solo adventure, this hotel promises to offer an unforgettable stay.