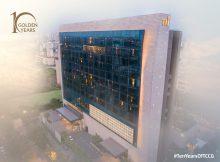 Standing tall as a landmark in the 'millennium city', Taj City Centre Gurugram hosted a soirée to commemorate its 10th year anniversary. This was the beginning of the year-round celebrations marking the milestone that will witness special events, curated epicurean offers and destination experiences for guests.
The bespoke evening presented by Taj City Centre Gurugram was illuminated in the hues of revelry with themed décor, a masterfully crafted culinary sojourn and enlivening entertainment.  The celebrations were marked by a soul-stirring performance by renowned singer, entertainer and Padma Shri awardee Mr. Adnan Sami followed by a gastronomic gala of global delicacies and spirited beverages curated by Chef Abhijeet Thakre, Executive Chef and Chef Nisa Yimthong.
The exclusive menu featured exotic seafood grills with Sri Lankan crabs, Norwegian salmon, colossal squids, and lobster as well as signature dishes from Thai Pavilion and Culina 44. An array of delightful desserts including 10 innovatively flavoured chocolates, and a cognac and cigar lounge enhanced the spirit of celebration. An exquisite 10-storey cake crafted by our culinary maestros, weighing a whopping 110 kgs was cut to mark the occasion. With bubbly being poured from a stunning golden champagne tower made up of 100 glasses, guests also raised a toast to honour the milestone.
Commenting on the 10th anniversary, Mr. Surinder Singh, Area Director Haryana & Dwarka and General Manager Taj City Centre Gurugram said, "As Taj City Centre Gurugram completes ten years, we extend our heartfelt gratitude to our patrons, partners and associates for their support through our incredible journey. Over the last decade, we have endeavored to deliver memorable experiences to our patrons, and we are grateful for the trust they have placed in us. The hotel has been an epitome of luxury and comfort and we continue to stay committed to providing exceptional hospitality services."
About Taj City Centre Gurugram
Set in the heart of India's technological 'Millennium City', Taj City Centre Gurugram offers impeccable hospitality, sincere care and culinary excellence complemented with its stylish aesthetics. The strikingly contemporary hotel with 208 luxurious rooms and suites occupies an integral space in the Gurugram skyline and overlooks a capacious turquoise pool. The hotel's culinary repertoire offers several choices from the iconic Thai Pavilion, to Culina 44, Tease bar and lounge and the popular La Patisserie. The morning to midnight Jiva Spa offers holistic wellness rituals for a truly rejuvenating experience while the fitness centre is an ideal destination to unwind and follow one's fitness regime. With a choice of well-equipped indoor and outdoor venues, the hotel has been a preferred destination for business conferences, meetings, events and celebrations. Should one choose to explore the region, the hotel's world-class Concierge curates experiences that get you inside access to the city's lush retail and cultural landscape. We welcome you to experience luxury in our elegant urban oasis.