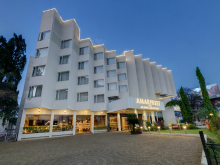 The recent Agoda Travel Trend Survey concluded that respondents predominantly selected an annual spending range of USD 201-500  when considering travel budgets. The study polled participants from Asia (including India), Australia, and the United States.  Krishna Rathi, Country Director India at Agoda said, "As a platform that is passionate about getting the best deals for our customers, we wanted to look at travel options that fit well within the expected travel spends". He also added, "Capitalizing on additional discounts in the Agoda app, or using money-saving features like 'price freeze' are great ways to make your money go further, and enable travelers to create and discover many different travel options".
Mumbai to Aurangabad (Domestic)
A history buff, an adventurer, or a wanderer of roads less traveled – it's about time you plan your next vacation to Aurangabad, a hidden gem located in Maharashtra. With a plethora of pocket-friendly flight options to choose from. You can pack in a five-day first-rate itinerary. Book your stay at the Amarpreet, Chhatrapati Sambhaji Nagar – AM Hotel Collection – boasting of a modern yet cozy and leisurely atmosphere. Taj of the Deccan – Bibi Ka Maqbara – a stellar sight of Mughal Architecture. Elevate the adventure with some time at the Daulatabad Fort – a medieval defensive citadel, atop a conical-shaped hill. You may also plan a day trip to Lonar Crater Lake (Rs 10,640), located in the Buldana district. A spectacular astronomical wonder, the lake was formed due to a meteorite collision and also holds pink water – truly unmissable.
Delhi to Muscat (International)
Muscat, Oman is the undisputed choice for you if you fancy short-haul flights and international vacays without burning a hole in your pocket. Embark on this captivating journey with affordable flights rounding up to just Rs 35,600 round-trips, for 2 people! Double the savings by booking your stay at Golden Tulip Headington Ruwi, at a steal price of Rs 17,000. Enjoy Muscat to the fullest by immersing yourself in the city's rich heritage by exploring the prestigious national museum and witnessing the impressive architecture of the Al Alam Palace. Ascend the mountainside to discover the enchanting Old Fort and encounter ancient fortresses and towers throughout the city. Don't miss the awe-inspiring Sultan Qaboos Grand Mosque, known for its grandeur and the remarkable 21-tonne handmade prayer carpet.  You can take a short boat ride to the Daymaniyat Islands, where you can snorkel above vibrant coral reefs and encounter playful dolphins and graceful turtles, for a memorable adventure.