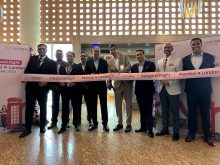 Vistara inaugurates its non-stop, 5x weekly flights between Mumbai and London . The inaugural flight, operated by the Boeing 787-9 Dreamliner aircraft, departed from Mumbai at 14:35 Hours (IST) and is scheduled to arrive at London Heathrow Airport at 19:55 Hours (BST). It is known for its distinctive features such as comfortable three-class seating, modern interiors, wireless connectivity on-board, cutting-edge in-flight entertainment system with live TV at 35,000 feet and wellness lighting solution to name a few.
Mr. Vinod Kannan, Chief Executive Officer, Vistara, said, "We are excited to launch direct connectivity between Mumbai and London – a historically significant route for trade, business and leisure alike. While Mumbai is the financial capital of India, London holds critical importance in the global financial world while also being a popular destination for travel and tourism from India".
"The new route, at convenient departure and arrival timings, is in line with our continued efforts towards offering more flexibility and ease to our customers when planning their travel with India's best airline. We believe that our world-class product complemented with our globally awarded service make for just the right combination for an exceptional flying experience", he added
With this Vistara celebrated the launch of the new international route with a ceremonious lamp lighting ceremony at the Chhatrapati Shivaji Maharaj International Airport. Customers will be offered themed delicacies on the inaugural flight including regional favourites – pav bhaji and keema pav, and London's speciality beer – Brewdog Punk IPA, on the return flight.