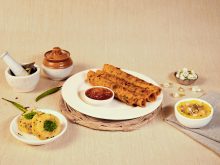 Café Akasa, Akasa Air's onboard meal service, has added a special festive meal to celebrate Mother's Day. This exclusive meal is available until 31 May across the network. All Café Akasa meals are a unique blend of traditional and contemporary flavors specially curated by culinary experts. This curation includes a flavourful Methi Thepla with Sweet Mango Pickle, served with unique and indulgent gourmet French-inspired Dhokla filled with Green Chutney, accompanied by a seasonal Mango Shrikhand and a choice of beverage. The delectable meal has been created to reminisce the memories of moments spent around the family table and offers the airline's customers the same comforting flavors of a mom-cooked meal, in the skies. Since the launch of operations in August 2021, Akasa Air has introduced specially curated meal
options that are inspired by regional specialties associated with celebrations during popular festivals
and special occasions like Ganesh Chaturthi, Dussehra, Diwali, Christmas, Makar Sankranti,
Valentine's Day, Holi, and Eid al-Fitr. The airline also offers a pre-selection of cakes on its regular menu
for flyers who want to celebrate the birthdays of their loved ones in the skies.
About Cafe Akasa
Akasa Air's buy-on-board meal service is Café Akasa. With a wide choice of multi-cuisine, tasty, quality,
and healthy meals, including industry-first options, the offering provides customers with a unique and
indulgent gourmet experience in the skies. An array of unique festival menus and quality fusion meal offerings, inspired by Indian cuisines and celebrations as well as industry-first options like pasta, Vietnamese rice rolls, and beverages like hot
chocolate are available on board, all year round. As an environmentally progressive airline, Akasa Air's
packaging of perishable meals is ethically sourced from sustainably grown crops and served on board
with stylish wooden cutlery that is biodegradable.
About Akasa Air
Akasa Air is India's newest and most dependable airline, offering warm and efficient customer service,
reliable operations, and affordable fares. Akasa's youthful personality, employee-centric philosophy, tech-led approach, and culture of service will make this commitment a reality for all Indians. The 737 MAX family aircraft deliver superior efficiency in reducing fuel use and carbon emissions, fulfilling the airline's promise of being an environmentally friendly company with the youngest and greenest fleet in the Indian skies.