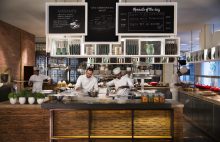 Experience the rich flavors of Kashmir without leaving the heart of New Delhi as JW Marriott New Delhi proudly presents "A Flavorful Heritage: The Cuisine of Kashmir" at K3 – New Delhi's Food Theatre. Immerse yourself in a 10-day gastronomic extravaganza from November 17th to 26th, where every bite unveils the rich tapestry of Kashmiri cuisine against the backdrop of the luxurious JW Marriott ambiance.
As the vibrant hues of autumn grace Delhi, K3 invites you to relish the warmth of Kashmiri hospitality, offering a mouthwatering selection of traditional dishes that echo the snow-capped peaks and charming valleys of the 'Paradise on Earth.'
Enjoy the delightful Delhi Autumn by savouring the famous Nadru Kebab and Kabargah in the cosy setting of JW Marriott New Delhi. Plant-based enthusiasts can cherish the creamy Chaman Qaliya, delectable Dum Aloo and hearty Haakh, while the meat connoisseur can indulge in the tender Rogan Josh, flavoursome Chicken Yakhni, and succulent Muji Gaad. To compliment these dishes, the enticing menu also includes aromatic Subuz Pulao, Mujj Chetin and Doyn Chetin.
Conclude your journey with a cup of soul-soothing Kahwa and the exquisite Kong Phirni, a perfect finale to your comprehensive Kashmiri culinary experience. The menu caters to diverse palates and dietary preferences, ensuring each dish is not only a treat for the taste buds but also a comfort to the soul.
Preserving the age-old techniques and authentic flavours of Kashmiri Pandit cooking, the food will be cooked in mustard oil without onion, garlic, and tomato. It will feature a rich assortment of aromatic herbs and spices, including asafoetida, fennel seed powder, saffron, dried ginger and dried fruits. To make the evening more engaging and entertaining, a live cooking station will also be set up, where the team of seasoned gourmet chefs specializing in preparing Kashmiri cuisines will showcase their exemplary cooking skills.
In our commitment to sustainability, every ingredient is locally sourced in a manner that supports the local community, reinforcing JW Marriott New Delhi's dedication to building a sustainable future. Join us for this culinary symphony where every dish tells a story about Kashmir's heritage, sustainability, and spirit.